Supporting local entrepreneurship to provide water & sanitation products and improve waste management in urban areas.
Why is it needed?
Malawi's urban population is rising, and most people are living in informal settlements. With limited access to water, sanitation and solid waste management, these are a breeding ground for disease, leading to high rates of sickness and mortality from diarrhoea and other waterborne infections. City services are greatly underfunded, and people are ignored.
What we do
We collaborate with local partners and mobilise entrepreneurs to improve their income and livelihoods through access to safe water, toilets, the provision of solid waste management and the sale of WASH-related goods. We have encouraged over 100 poor city dwellers to collect and sift household waste, then process the organic materials to make compost for sale. We build sanitation centres where entrepreneurs can advertise their services and sell WASH-related products and services, improving the health of their communities. Support is provided for marketing, hygiene behaviour messaging and accessing loan facilities.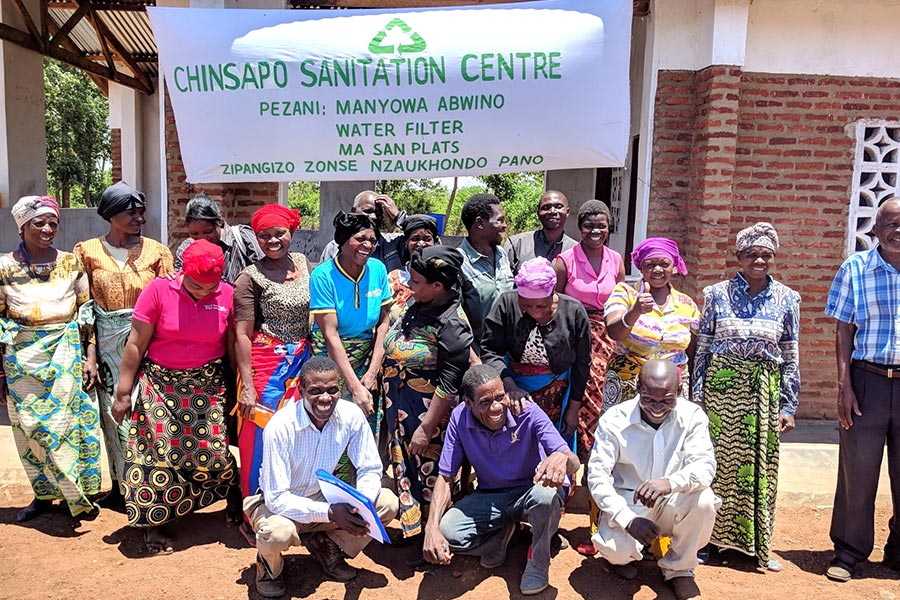 119
entrepreneurs and sales agents engaged in the programme
18,139
people benefiting from safe drinking water
11,852
people benefiting from improved sanitation
16,955
people benefiting from solid waste management
41,914
people reached with hygiene behaviour education
9 tonnes
of solid waste collected & treated, leading to cleaner cities
629 to 90
reduction in annual cases of diarrhoea over the last 3 years
4m kwacha
in entrepreneur sales, supporting better livelihoods
0 cases
of cholera where the project operated
Case Study: Diana
Read about the remarkable effect of the programme on the life of Diana, an urban entrepreneur in Kauma:
Diana has been engaged with the Lilongwe Urban Poor People's Network since 2012. She had no capital to start her own business and was extremely grateful when Pump Aid provided her with her first supplies of water filters and training on different business skills.
Diana was able to develop her entrepreneurial skills and start a positive ripple of change. She has improved her own livelihood while promoting health for all her customers through safe water treatment and helping to maintain cleaner urban living conditions by collecting waste to turn into compost.
Whilst previously having to spend about an hour everyday drawing water far from home, Diana has been able to afford piped water supplies thanks to income generated through her business. The lives of her and her children have been transformed.
"I'm now a successful businesswoman. I have my own tap thanks to the project and bought school uniforms for my daughters, so they can go to school. I am looking forward to more sales and profits that will continue to improve my life."
Diana, urban entrepreneur in Kauma